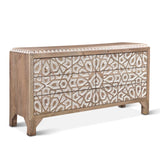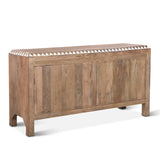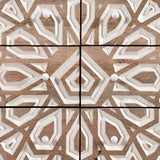 Hibashi Furniture LLC
Mughal Garden Geometrical Hand Carved Natural 6 Drawers 2 Tone Dresser
SKU: HFMGGHCN6DTD
Delivered Between :
8 to 10 weeks
This Hand Carved Indian Geometrical 6 Drawer dresser is a Perfect Product made to form a set with our other geometrical product like Bed, Chest and Bedside to form a complete artistic set into a Bed Room,
This Dresser is made from Solid mango wood featuring a 2 tone finish that brings highlights the beauty of each piece. 
This collection has a visible remarkable floral and geometric pattern detailing hand-carved by our highly skilled Craftsman. 
This beautiful dresser features a natural white finish in contrast that enhances the carvings and complements a variety of styles, while also offering durability for daily use.
 With six drawers, each with a knob handle, this horizontal dresser provides enough room to house all your favorite clothes. 
This pre-assembled dresser is made with materials of the finest quality, making it the perfect addition to any bedroom. 
Due to the handcrafted nature of this item, variations will occur and are a feature of this unique collection and characteristic of the wood by nature • 
Natural Wood Grain Color Variation (No item has the same grain color, finish, due to characteristics natural wood factors.) 
Weights & Dimensions 
Main Drawers Weight Capacity 40 lb. 
Smallest Drawers Weight Capacity 35 lb. 

Other Dimensions Overall 33'' H x 61'' W x 18'' D 
Main Drawer Interior 6'' H x 23'' W x 14.75'' D 
Smallest Drawer Interior 5'' H x 23'' W x 14.75'' D 
Overall Product Weight 120 lb.
- BUY NOW PAY LATER - 
Buy now with a payment plan from 24 to 36 Months through KLARNA.
Proceed to check out and click KLARNA for Payment Plan
Hibashi Furniture llc
Shipping and Return Information
Our shipping & returns policy (100% satisfaction guaranteed)
Shipping Policy:
At Hibashi Furniture LLC, we understand that receiving your order in a timely manner is important to you. That's why we make every effort to process and ship your order as quickly as possible.

Most of our products have an expected shipping time of 8-10 weeks. Please note that this is an estimated time frame and actual shipping times may vary.

If you have any questions or concerns about the shipping of your order, please don't hesitate to contact us. Our customer service team will be happy to provide you with any information you need.
Oversized Item Return Policy
What is Hibashi Furniture's Oversized-Item Return Policy?

You may initiate a return for most new and unopened oversized items within 15 days of delivery. A refund will be issued if the item is in new and unused condition with all original materials included with the shipment.
You are responsible for the cost of the return shipping fee when you return an oversized item for any of the following reasons:
You refuse a delivery without inspection
You miss a delivery appointment
You return a non-defective or undamaged product
All returned oversized items are fully inspected upon their arrival back at our warehouse.
We reserve the right to deduct the return shipping fee, which generally ranges from $100 to $695 or more (depending on size and weight) if the item is not in its original condition upon arrival back at our warehouse.
*By purchasing an oversized product, you authorize Hibashi and/or its Carriers to assess additional fees to your credit card, as necessary, according to the fee schedule described here. We may deduct original and return shipping costs from your refund or otherwise charge them to your credit card after we receive the return product back at our warehouse.

What Do I Do If My Order Is Damaged Or Defective? 
If the return is a result of damage or defect and we will send a replacement of the product free of delivery charges and pick up the damaged product for free. If you require refund and not interested in the replacement, you will return the product packed and in the condition, it was sent to you, All returned oversized items are fully inspected upon their arrival back at our warehouse.
We reserve the right to deduct the return shipping fee, which generally ranges from $100 to $695 or more (depending on size and weight) if the item is not in its original condition upon arrival back at our warehouse.
In the event that any of these occur, all details of the damage or defect need to be clearly noted on all copies of the BOL and Delivery Receipt upon your inspection during your delivery in order for us to assist you with a return or replacement. In addition, we must to be notified within 24 hours.
 
DO NOT SIGN the Bill of Lading until you have inspected the item. Also, please do NOT wait to inspect the item (e.g.you are storing your furniture or you are waiting on completion of a home improvement project.
 
By signing for your delivery without noting the problem with your shipment on the delivery paperwork, you affirm your item was delivered to you with no damage or defect.
For delivery services requiring a signature:
All damage and defects must to be noted on all copies of the delivery receipt and/or a Bill of Lading and reported to Hibashi Customer Care within 24 hours.
If the item is severely damaged, note the Bill of Lading as Refused Due to Damage.
Please make sure you thoroughly inspect your item while the carrier is still at your home. Any damages/defects MUST BE NOTED upon signing for the delivery.
*For delivery services that do not require a signature, please inspect the item right away for any damages. If damage is found, please do not accept delivery and contact Hibashi within 24 hours of delivery. 

Damage or Defects found after Delivery and Inspection
If your shipment looks fine at delivery, but you notice damage or a defect after the carrier leaves, immediately contact Hibashi to report the situation.
Make note of the following details:
Package condition
How it was received (left at front door, signed for), and description of the damage
Please do the following:
Take several pictures showing the affected area(s).
DO NOT discard any of the shipping box or packing materials.
DO NOT discard the product itself because it may be necessary for the carrier to inspect the item and report on the damage.
DO NOT ship the item back to Hibashi without first being instructed to do so. Failure to comply may result in denial of a damaged item claim per the shipping carrier's claims guidelines.
Hibashi will contact the carrier to have the item picked up. The carrier will call you to make an appointment for the pickup, usually within 24 to 48 business hours.

* Due to the circumstances surrounding COVID-19, all returns of oversized items will be available using the outside home pick up option. There is no option for in-home pick up at this time.
Standard Return Policy
With our simple returns process, you can shop online worry-free.

If something doesn't work out, you can send most items back within 7 days of delivery.
 
Start the return process within 7 days of receiving your item.
We inspect all returned items. The product must be in new or unused condition, with all original product inserts and accessories.
Shipping costs will be the responsibility of the customer in cases of buyer's remorse returns, such as an item didn't fit, didn't like the color/quality, changed your mind, ordered by mistake, bought it somewhere else, etc.
We will refund the cost of the merchandise and shipping charges if the return is a result of our error or defective product.
Ship the product as soon as possible so it arrives at our facility within 15 days  of receipt of the item.   

Defective Product and Returns Due to Our Error

If there are mistakes with your order, or products arrive defective/damaged at the time of receipt, we'll make it right by:
Sending you replacement parts or accessories
Replacing the product or
And we'll also cover the cost of any return shipping
If the product is not defective, return shipping fees will apply.